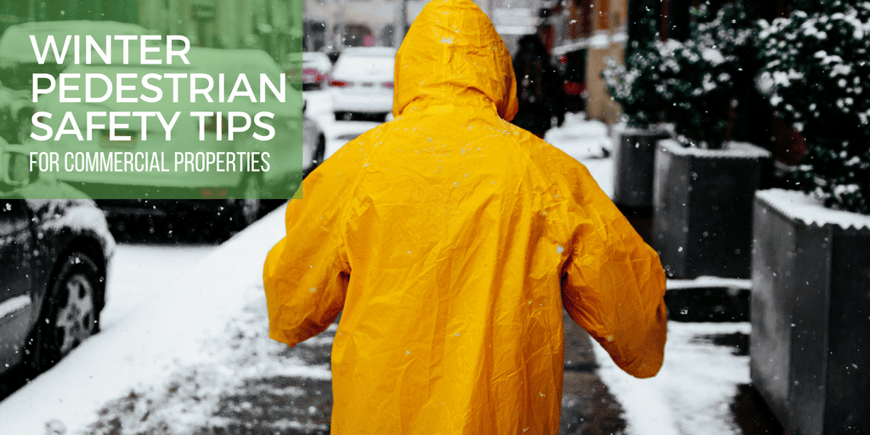 Before we know it, frigid temperatures and snow are going to be the usual weather forecast here in Northeast Ohio. That means slippery entrance ramps, parking lot puddles that quickly freeze into dangerous patches, and high winds that produce snow drifts on to once clean walkways.
Safety and access are chief concerns for commercial property owners—keeping pedestrians safe in winter and avoiding incidents like slip-and-fall injuries or vehicle accidents.
Where Do You Begin?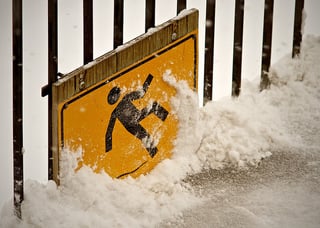 You can't control the weather, but you can plan for it. You can't watch over every single person who walks on your Northeast Ohio property, but you can work with a snow contractor and develop a winter storm plan that addresses unsafe (and often overlooked) areas on your property.
As a commercial property owner, you don't want winter weather to slow down your business, risk the safety of guests, or hinder basic tasks in multi-family residences like taking out trash and getting mail. Preparation and communication are the keys to keeping your property safer for pedestrians this winter.
As a snow contractor that's licensed by the Accredited of Snow Contractors Association (ASCA), Schill professionals are equipped with the knowledge and field expertise to keep clients' properties safe, protected from insurance claims, and accessible.
Here are some common high-risk areas to address on your commercial property, and how a winter storm plan can set you up for a clear, safe snow season.
Want more tips about how to protect your commercial property this winter?
Check out our comprehensive guide on snow removal for property managers and owners.
Slippery Slopes: Icy Ramps And Entrances

Entrance areas must be kept clear and ice-free so pedestrians can safely access your place of business. Common danger zones in freezing weather include ADA ramps, and other small ramps that lead from parking lots to sidewalks.
Ramps often become a problem after the weather calms down and plowing is done. Snow melts and rolls down ramps; then a fast temperature shift can turn water puddles into treacherous territory.
Snowmelt refreezes and must be treated immediately to prevent slip-and-fall injuries. Also, snow can get pushed up against parking lot and entrance ramps, completely blocking these access points.
The Solution
Clearing snow from entrance spaces and ramps is not enough. Ice-melting products are critical for keeping these high-traffic areas safe for pedestrians, and your snow contractor should be able to suggest some sustainable snow and ice-removal solutions.
We recommend pre-treating entrances, frequently used walkways, ADA ramps and parking lot ramps, and then continuing to manage the snow and potential ice in these areas during and after the storm.
Hidden Territory: Shortcuts, Dumpster Areas, Mailbox Huts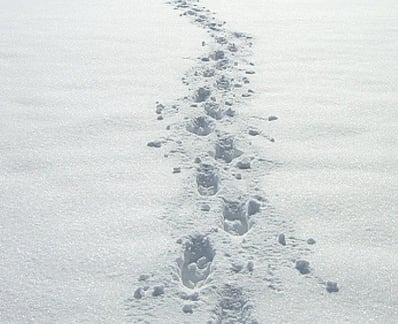 Clearing sidewalks for pedestrians is an obvious must in your winter storm plan. But where else do people walk on your property? Are there common shortcuts?
Think about how pedestrians behave on your Northeast Ohio property—do they cut through unpaved spaces to reach side entrances? Do they walk across back parking lots, or cross over lawn areas to go from a multi-family unit to the HOA clubhouse?
Also, when snow contractors plow your commercial property, do they block in the dumpster area, pile up snow over mailbox huts or cover up fire hydrants?
People who visit, live or work on your property need to access these spaces—no matter the weather. And keeping fire hydrants free and clear of snow is a critical safety measure.
The Solution
Keep pedestrians safe by treating these unofficial walkways like any other pedestrian crossing. Your snow contractor can clear paths through snow and de-ice those areas.
Also, be sure that the contractor clears space around dumpsters and uses an ice-melt product so puddles that may form do not freeze. The same is true for mailbox huts and fire hydrants, which must be completely accessible.
Snow Drift: Look Up, At Rooftops
Your property can be completely clear—or like we call it, "down to pavement"—but wind changes the picture fast. Look up at rooftops. That snow can blow onto walkways, block entrances and drift across parking lots.
A clear parking lot with some "refreeze" after a sudden drop in temperature turns wet pavement into a slippery surface can then be hidden by snow blowing off a rooftop.
The Solution
This scenario can happen in minutes, which is why your snow contractor must be responsive. At Schill, we manage parking lot garages and awnings to help prevent this problem, and our zero-tolerance approach stops a wet parking lot from becoming an ice rink.
Also, good lighting in parking lots, walkways and entrances can go a long way toward keeping pedestrians safe. It's tough to navigate a snowy parking lot in the dark—and you can easily miss that icy patch and slip.
Winter Planning: Pre-Season Inspection And Extreme Weather Strategy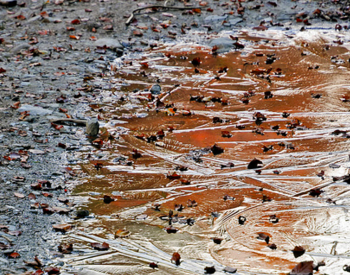 One of the best ways to make your property safer for pedestrians this winter is to conduct a pre-season inspection when your grounds are clear of snow. At Schill, we like to do these inspections after a rainfall so we can see exactly where puddles form on a property. These are the same areas that will hold water after snow melts and will refreeze into ice patches if not properly managed.
Develop a winter storm plan, including a strategy for dealing with extreme snow and ice conditions. This 'Plan B' is critical so your snow contractor can respond immediately when the weather changes. Timing is everything with keeping your grounds safe.
If your contractor has to track down a key contact to make last-minute decisions, that's hours wasted when the snow management team could be hard at work on your commercial property. When weather changes rapidly, we want to respond just as fast.
Keep Your Pedestrians Sure-Footed This Winter, Every Winter
Pedestrian safety is your responsibility as a property manager. Your professional snow contractor should be a partner you can trust to anticipate winter weather, respond immediately, and deliver the knowledge and field expertise to keep your property safe and accessible.
If you need a little help hiring a reputable Cleveland snow removal company, use our FREE guide to hiring a snow removal contractor today.
As one of the top three Ohio snow removal contractors, with the third largest ASCA-certified staff in the state, we take snow seriously. And we believe it's critically important to educate our clients about the risks associated with careless snow services.
Ultimately, snow removal is emergency response: It's all about protecting the safety of people who visit, work and live on your property.
Let's talk more about how you can budget for snow removal this season, and what to look for in a quality contractor. Call us any time at 440.327.3030, or fill out this simple contact form and we'll get in touch with you.
Images: Sign in snow, "Enter At Own Risk" sign, Snowy steps, Footsteps in snow, Frozen puddle