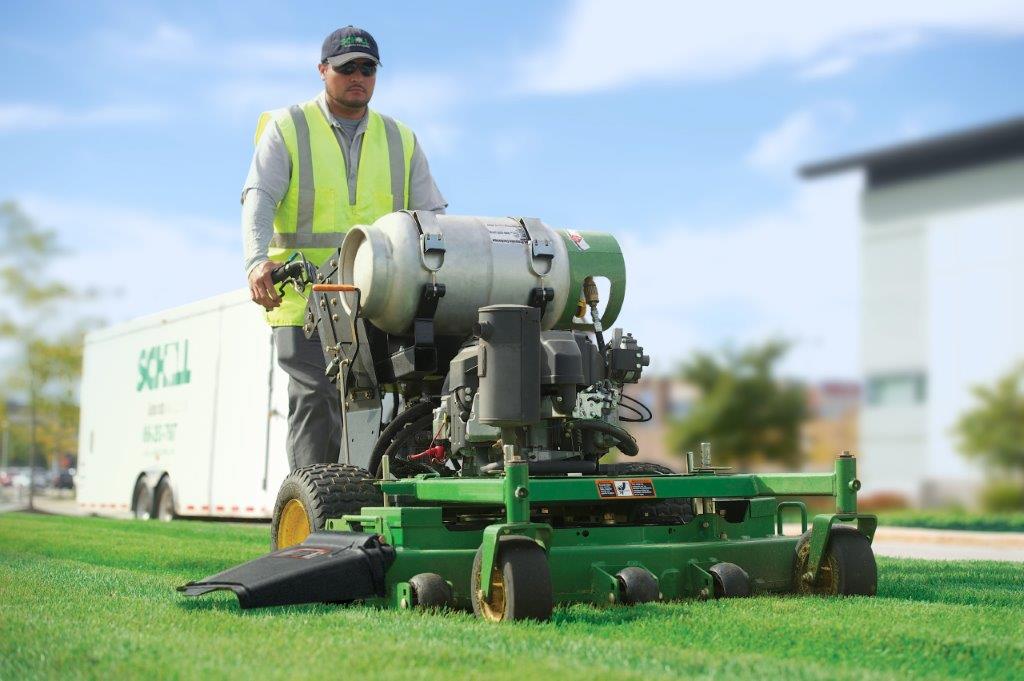 We're answering your questions about landscape services, and that includes addressing the Price Gap—why landscape maintenance contracts can be priced so differently. We explained here that many contracts don't clearly spell out the services promised. So, a lower-priced contract could look appealing, but it might not include the services you need and quality you expect.
Basically with pricing, you get what you pay for. And that's why we're answering the question: How many landscape service visits does your commercial property need?
The more hours a landscape provider spends on your property, the higher the cost of service. (Makes sense, right?) Because fewer visits will typically lower the price, you might be wondering if you can opt for fewer services this season. We understand the need to manage budgets carefully, so that's why we work closely with property managers to help them understand what level of maintenance their commercial landscapes will require to get the results they want.
What Does Seasonal Service Really Mean?
Here in Northeast Ohio, the landscape maintenance season is typically 38 to 40 weeks long. That doesn't mean your lawn will need to be mowed every week. In the summer, high temperatures slow down turf growth. Meanwhile, landscape service contracts are generally structured with 28, 30 or 32 mowing visits. (See how quality is impacted if you choose 28 visits and there are 40 growing weeks?) You'll find a significant price difference between a landscape maintenance contract that provides 28 visits vs. 32 visits.
Our advice: Be sure to find out what 'seasonal' actually means by asking how many service visits the contract includes and when they will typically be delivered throughout the year. (We call it an Agronomic Calendar)
What Type of Commercial Property Do You Oversee?
Is your Ohio property a retail shopping center or corporate headquarters of a national company? If so, your landscape maintenance requirements will be different than an industrial facility or a commercial property with much lower traffic pattern. Does your property have landscape beds with annuals, and is there an irrigation system on site? Or, is the grounds mostly grass with no irrigation system? The type of property plays into how many landscape service visits you'll need to maintain the property. Some properties are higher-maintenance because of their location, what the landscape includes (plants, irrigation, etc.) and the audience those properties serve.
Ask for Numbers
Many landscape contracts are vague when it comes to spelling out how many services you're actually receiving by using buzz words like "Seasonal Contract." Find out the frequency of service. If a contract lists "pruning," ask whether that's a single pruning or several throughout the season. If the contract says mowing and then describes what activities that includes—great. But again, how many times will the landscape provider perform the service?
Here is an example of how a premium service contract might look in terms of frequency of service. While contracts vary based on the provider, the point is that there is total transparency here and no question about how many services you're paying for.
Premium Service Contract Example
32 landscape management visits
1 deluxe spring cleanup

premium dyed bark mulch

2 seasonal pruning
5 lawn care / no-bug
4 deluxe fall cleanups
1 perennial grass maintenance
1 tree and shrub fertilization
3 tree and shrub insect/disease control
Read the Fine Print
We have seen landscape contracts that provide mulch, but in fine print there is a note that additional mulch beyond the estimate will cost a certain amount per yard. (We're betting that properties always need extra mulch.) We have also seen contracts that list pruning in the service list. However, small print indicates that pruning is one visit and does not include roses. Read the fine print! (In our opinion, there doesn't need to be fine print on a landscape contract because the information should be plain and simple to read and understand.)
Let's talk more about how to understand landscape maintenance pricing and how you can choose a qualified, professional grounds management expert to care for your Northeast Ohio commercial property. Download any of our free resources, including the latest Guide to Commercial Landscape Pricing today. Call us any time at 440.327.3030, or fill out this simple contact form and we'll get in touch with you.