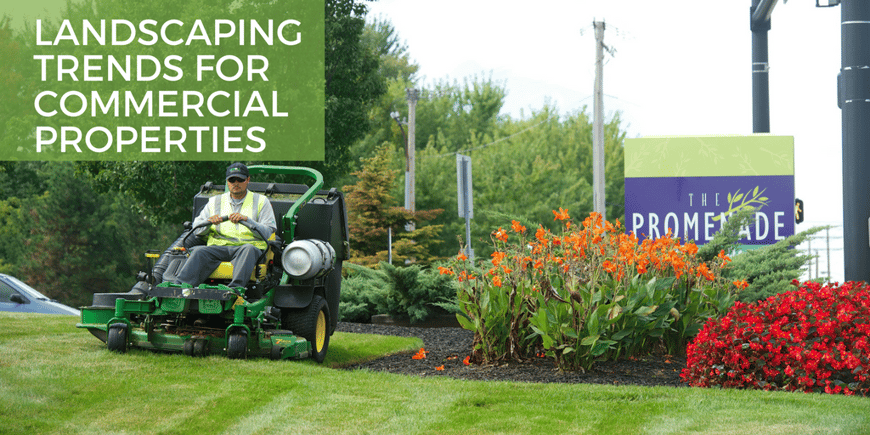 If you manage a commercial property, your concerns for your landscape go far beyond what the average homeowner has to think about. You have to balance the competing demands of keeping expenses under budget and creating memorable experiences for tenants, customers, and employees. And sometimes you might be doing all this for multiple properties at the same time.
The staff at Schill Grounds Management has well over a century of combined experience in helping property managers meet their goals and build landscapes that allow people to create meaningful memories. In this article, we share some of the popular landscaping ideas for commercial properties we see property managers adopting.
1. Low-Maintenance Landscapes
We know you consider plants an investment, and the return on that investment is affected by the cost it takes to maintain them. Therefore, more and more property managers are opting for low-maintenance plant material, whether it's turf, shrubs, or trees. These plant varieties are typically hardier and require fewer resources like water and fertilizer to thrive.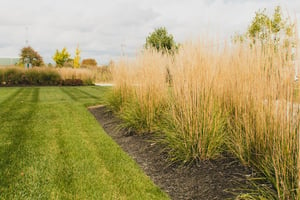 Low-Maintenance Plants for Commercial Properties
Tall fescue, the turf type we use here at the Schill headquarters, is a great choice if you want your lawn to look green even in drought conditions (as opposed to other popular turf varieties like Kentucky Bluegrass, which goes dormant when it doesn't get enough water).
For clients looking for decorative, low-maintenance perennials, we often recommend daylilies and ornamental grasses, which come in a plethora of shades and colors.
While it may seem a bit backward, the truth is that landscapes that incorporate plants that are drought-tolerant or hardier will often have extra money in their budget to spend on annual plants that change with the seasons. Perennials are a one-time expense when cared for properly, so the more of your landscape that is covered with them, the more money you can put toward annual flowers that require more resources.
Want more landscape design tips for sustainable properties?
Check out our comprehensive guide for property managers.
2. Energy-Efficient Landscapes
As we mentioned above, many commercial property managers have begun to adopt plants that require less water. This is a great first step toward reducing your ecological footprint, but we also encourage owners to consider changes to their landscape's design and infrastructure, which can save energy as well.
Energy-Efficient Design
If designed properly, your landscape can help you cut heating and cooling costs for your building. In the summer, tall trees can provide shade from the worst of the season's heat.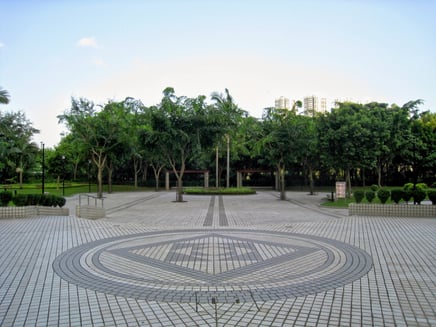 Here in Ohio, however, frigid winters are typically more of a concern for property managers looking to keep costs down. For clients looking to upgrade their design or install something new, we suggest windbreaks. Windbreaks are a group of trees and shrubs that direct wind up and over your building. This way, your retail center, office building, or homes can be spared the worst of winter's chilling gusts.
In cooler regions like ours, it's also important to allow sunlight to reach south-facing windows, as that's where winter sun tends to shine brightest. This can save you money by reducing your heating costs.
Energy-Efficient Upgrades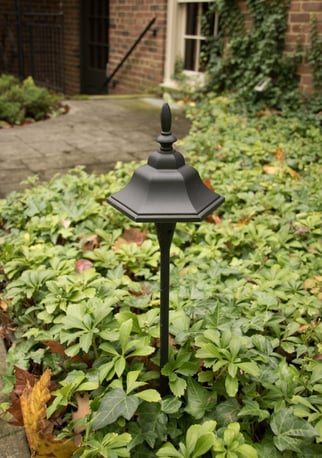 We've written a lot about lighting as a great way to make sure your property's best features are highlighted 24 hours a day. But if you have installed lighting that hasn't been evaluated in a while, making some key changes could save you a lot of money in utility costs. Consider switching incandescent light bulbs for LED or even solar options to get the same amount of illumination for a fraction of the price.
If your landscape's lighting was installed recently, then there's a good chance you're already using LED lights, or at least that your existing system can be retrofitted to accommodate them. Even if your entire system needs an upgrade to be truly energy-efficient, you could recoup the costs of a new install in a matter of years.
Lighting isn't the only aspect of your landscape that needs to change as technology develops. If your property's irrigation system is out of date, it could be costing you thousands of dollars each year. Make sure key features like rain sensors and timers are working correctly and are set properly. Here at Schill, our irrigation experts do comprehensive audits for our customers every three to five years to ensure everything is running smoothly.
3. Landscapes That Provide Experiences
Landscapes aren't just about looking pretty or saving energy. Many more commercial property managers are opting for landscaping features that provide great experiences for customers, tenants, or employees that their properties serve.
This means creating an immersive environment that people are happy to spend time in instead of just pass through. So how do you do this?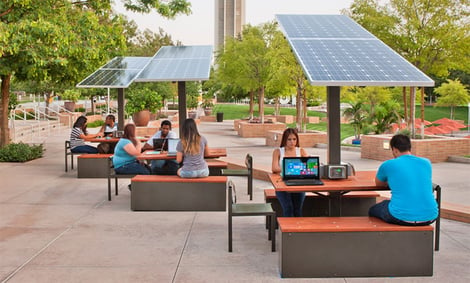 The simplest and most effective way to find out what landscaping features people would appreciate most is to ask them. Put out a poll on Facebook or Twitter, or send out a survey via email.
Do your employees want to spend more time outside during the workday? Consider creating an outdoor workspace. Make sure your landscape has attractive, comfortable, shaded spaces to keep passersby happy—and Wi-Fi access to keep them productive.
In a world where fewer and fewer people know their neighbors and coworkers, community gardens are a great way to build comradery in office spaces or shared living spaces like apartments, HOAs, and senior living residences. Studies show that spending time in nature boosts productivity and brain function.
Community gardens are also a great way to get your business or property involved with local charities. Consider working with local food banks and other philanthropic organizations to donate the harvest from your garden.
Trust Schill to Provide Landscaping Ideas That Fit Your Property
The Schill team has over 25 years of practice in helping property managers in Ohio create memorable experiences with their landscapes. Contact us today if you'd like advice on commercial landscaping ideas that will work well on your property, or download our Guide to Create Amazing Spaces to get great ideas for design in any season.
Photo Credit: Solar Connected Table Outdoor Workspace