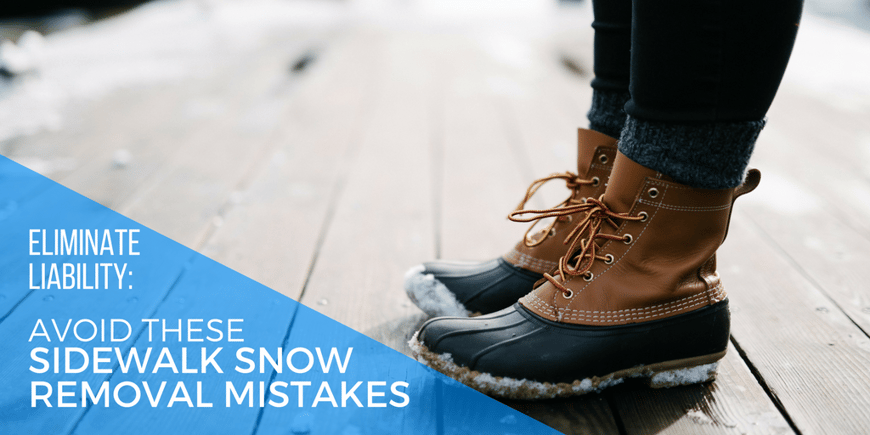 When most people think about commercial snow removal, the plowing of open spaces like parking lots and garages is often the first thing that comes to mind. But we like to remind all our potential customers that outdoor areas like sidewalks, ramps, stairs, and loading docks are just as much (if not more) of a liability.
Over the past 25 years, the team at Schill Grounds Management has spent hundreds of hours meticulously training our staff how to care for all walkable and drivable areas on our customer's properties. Because we want winter to be safer for everyone, we wrote this article to help you make sure your property's sidewalks get the attention they deserve.
Poorly maintained sidewalks, ramps, and docks put your property at risk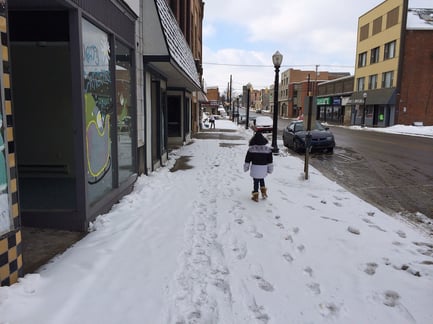 Because plowing or parking lots and garages is such a large undertaking, sometimes property managers and owners forget about the smaller tasks associated with commercial snow removal.
According to a study by Zurich Insurance, outdoor areas like sidewalks, ramps, and stairs account for 36% of all slip and fall claims, which is just slightly higher than the percentage of claims from parking garages and lots (35%). The average amount paid out for slip and falls on sidewalks and outdoor areas is also significantly higher than those paid out for similar accidents that occur in parking structures: $19,100 vs. $12,808.
This probably doesn't come as too much of a surprise, as these areas tend to have the highest amounts of foot traffic.
Going beyond the shovel: Why technology matters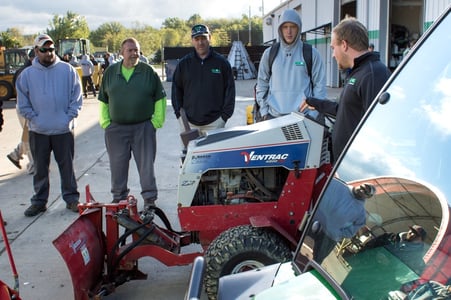 The national employment rate is at a record low, which means that it's harder than ever to fill general labor positions across all industries.
This is especially true for seasonal positions that aren't filled year-round, which is a common hiring practice our industry. As a result, the best commercial snow removal companies are looking for ways to adapt and innovate to minimize the impact of labor shortages.
Working with a company that isn't keeping track of changes within the industry is a major snow removal mistake.
Here at Schill, we use a variety of products that allow us to mechanize snow and ice removal in tight spaces like stairs, ramps, and sidewalks. For example, utility vehicles with plows and/or deicing gear attached (like the one pictured above), mechanized brooms, and stand-on equipment all allow our crews to clear snow much faster than your traditional sidewalk shoveler. Smaller companies, on the other hand, may not have access to as many tools, which may limit their efficiency. And in the snow removal industry, efficiency often means safety. The faster snow and ice gets cleared from your sidewalks and outdoor areas, the less time your property is vulnerable to accidents and slip and falls.
Make sure your contractor is asking the right questions about your property
The devil is in the details, and every commercial property has different features that will each require different techniques. For example, a hospital that's open 24/7 has a much higher exposure to risk than a retail complex that closes in the evening. Accessibility ramps, which are unavoidable for people using wheelchairs and other wheeled equipment, may need a liquid pretreatment instead of just salt to make sure that the surface is completely free of ice and has as much traction as possible.
But how does a snow removal contractor find out this information? For starters, they need to have a formal procedure for observing your property and asking the important questions. Many weeks before the first snow event of the season, the Schill team conducts pre-season snow inspections on every property we service during the winter, and we take this time to make note of any potential hazards or areas of high foot traffic on the property. From there, we create a snow storm management plan for the property to ensure it will get the highest level or service.
How do you find a contractor that will sweat the small stuff?
Sidewalks and other walkable, outdoor spaces should never be afterthoughts of your overall snow and ice management plan. It's vital that you find a snow removal contractor that understands this, and Schill can help! Whether your local to the Northeast Ohio area or you live far away, our Commercial Snow Removal Hiring Guide is a great resource to help get you started.
The Schill team is currently #1 in the nation for the number of staff with ASCA certifications, and was only the second company in the state of Ohio to get ISO certified. If you live on Ohio's Lake Erie coast and would like a partner that can help you find the perfect snow management solution, please don't hesitate to contact us.
---
Photo Credit: Girl Walking in Snow, Snow Winter