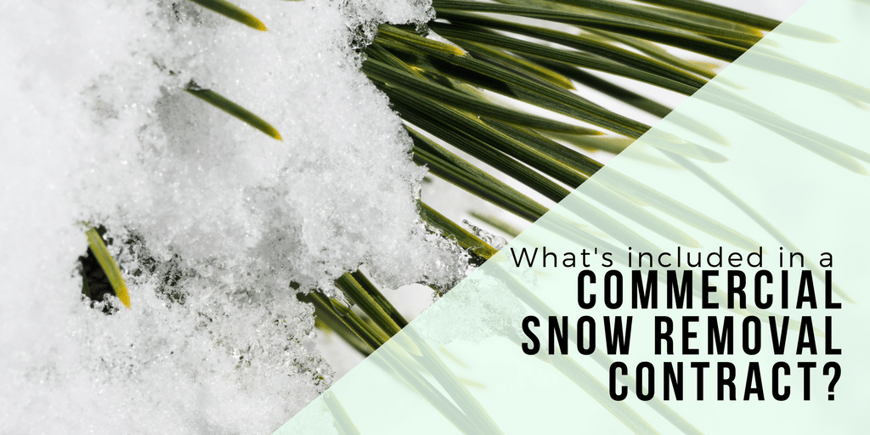 Each year, Schill Grounds Management provides commercial snow removal services for retail facilities, homeowners associations, industrial and office buildings, and more. As one of the few ISO certified snow removal companies in Ohio, we know all about the best practices and procedures for combating winter weather in a safe and timely manner. Here's a closer look at the main types of snow removal contracts in Northern Ohio and what's included in a typical snow removal contract.
Types Of Snow Removal Contracts
There are three main types of snow removal contracts for commercial properties: per event, seasonal, and full-service.
Per Event
If you have a per event contract, you'll only pay if snow falls. Our crews start plowing after the snow accumulates to an agreed-upon height, usually 2-4 inches. Some property managers like this because they don't pay for services they don't receive, and it allows for an itemized statement at the end of each month, which they can then incorporate into an expense report.
Seasonal
Seasonal contracts are typically set for 2-3 years at fixed snow removal contract prices, which allow the law of averages to work in both the client and the snow contractor's favor. If a particular winter has more snowfall than average, that will favor the client, while the snow contractor is more likely to benefit from a milder winter. There are a number of factors that impact snow removal contract prices. Check them out in this blog.
Full-Service
A full-service contract is also set for 2-3 years, and it's really the Cadillac plan of snow and ice removal. Our full-service customers don't have to worry about anything for the season, and all of the best options listed below are included. This is great for retail properties that truly want a partner in fighting winter weather.
Retail property managers who need ice treatment around the clock like this option because they know they don't have to worry about anything — we have it covered.
HOA's love this option because it allows for the association to know exactly what its winter maintenance costs are going to be, which in turn allows for stable fees for its members.
Want to keep your property safe this winter?
Check out our comprehensive list of commercial snow removal tips for property managers.
Now that you know the three main types of snow removal contracts, let's take a look at what's included in a typical snow removal contract.
Ice Removal
Snow can cause slips and falls for people and loss of traction for vehicles traveling on your property, but the real threat in the winter is ice. The downside of a per event contract is that it may only allow for service when there's a certain amount of snow on the ground, while ice can form without any precipitation. At Schill Grounds Management, we try to stress the importance of a snow removal contract that makes sure your property is taken care of in all conditions, not just after a snowfall.
Common Options for Melting Ice
Pretreatment With Liquid Deicer
Foot traffic never really stops on some of the retail properties we service, which means that it's very important that pavement is visible and clear of ice at all times. We battle ice using a variety of innovative methods. We're on the forefront of using liquid deicer products that are less damaging to plants and buildings than salt, but just as effective at keeping ice from bonding with the pavement.
Salt
We use salt on our commercial properties in addition to liquid deicer primarily because it tends to work faster. It's especially useful in conditions where snow is rapidly falling, the client has chosen for us not to use liquid deicer, or there's not enough time to pre-treat the entire property.
However, salt can be erosive to the outside of a building when it gets trapped in the porous outer layers of stone or concrete, or the interior of a building when people track it in with their shoes. It can also wreak havoc on a landscape over time, as salt leaches moisture from plants.
Which method is best for your property? Check out this blog to learn more.
Snow Removal — How and Where
The only thing most people know about commercial snow removal is that plows are involved. Where the snow gets put, or other tools that are used to get rid of it, is another story. Here are some basic choices potential clients have concerning what happens to snow after it has been removed from vital areas of their property.
Snow Plowing, Shoveling, and Blowing
Snow plowing is probably the first thing that comes to mind when people think about snow removal, but it's not the only way to clear streets and sidewalks. There are some parts of your landscape where a snowplow can't and shouldn't go, so our crews shovel and blow snow from walkable areas and beds as well. This helps to ensure that your trees and shrubs are visible for your customers, employees, and tenants to enjoy year-round, even if it's frozen.
Snow Hauling
Removing snow by hauling it to another location is a major part of what we do. But where does all the snow go? Schill Grounds Management takes snow from our clients' properties to our very own snow farm in northern Lorain County, where it melts naturally as the weather heats up.
Snow Banking
For those who don't mind large piles of snow remaining on their property, we provide snow banking as well. It's a more affordable option for properties that have a lot of extra space that's not being used for other purposes. However, many people underestimate how long it can take for snow banks to melt naturally. It's not uncommon for large piles to remain in parking lots into late spring and early summer. We suggest you avoid the possibility of Christmas in July and allow us to remove snow from your property completely.
How It Applies to Your Property
Making a Plan
After discussing your options with you, we will make a plan for your commercial property. That not only includes the features listed above, but it also takes into consideration where your property is located relative to our office and numerous salt storage facilities and the best route for clearing snow from your property (what's the most efficient way to plow and how many people are needed to do it).
Contingency Plan
Road blockages can appear, accidents happen, and eventually, the original plan for your property may not be feasible anymore. After we make an initial plan for removing snow and ice from your property, we'll come up with a backup plan to put in place in case Murphy's Law goes into effect.
The Schill Team Has You Covered
For more than 20 years, our company has been delivering reliable, cost-effective snow and ice management services to commercial properties throughout Northern Ohio, and we'll be doing the same this year and for many years to come after that. We'd love to talk to you about becoming your partner in battling snow and ice, whether it's for this winter or the next five. If you need a snow removal solution this year, or would just like more information on snow removal contract prices or what's included in a typical snow removal contract, please contact us.
---
Photo Credit: Mt. Chipotle;