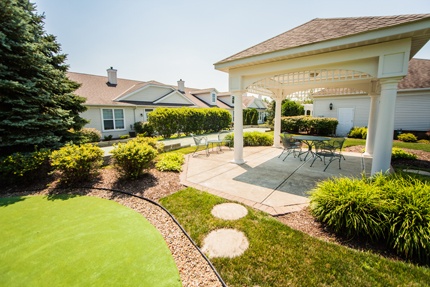 A beautiful home is a source of pride and an important investment for every condominium owner. From expansive master-planned communities to smaller condominium developments, Schill offers landscape management that starts the season with spring clean up landscaping all the way through to snow and ice removal services for dozens of the finest condominium communities in greater Cleveland and Northeast Ohio.
Schill's certified staff of commercial landscape professionals can improve the appearance, safety, and value of your property through proactive planning, regular C.A.R.E. visits for landscape maintenance, and snow and ice management. We offer you creative ways to save money and maximize curb appeal so you can enjoy an appealing living environment at a competitive price.
With our sustainable solutions, we can help you create a healthier environment for outdoor living without spending more. Discover how partnering with Schill can increase your property's value.
Condominium Grounds Management & Landscaping Services
Mowing
Bed Care and Mulching
Weed Control
Tree and Shrub Planting and Pruning
Turf Care
Lawn and Plant Rejuvenation
Landscape Design and Installation
Weekly C.A.R.E. Visits
Spring Landscaping Clean Up
Fall Clean Up and Leaf Removal
Irrigation Maintenance
Safety Inspection
Condominium Snow & Ice Services
Snow plowing and hauling
Sidewalk clearing and de-icing
24/7 call center and weather tracking station
Pre- and post-storm communication
Blizzard contingency plans
Multiple salt storage locations for quicker response
CSP and ASCA-certified snow and ice professionals
Dedicated area and route supervisors
Zero tolerance programs


What Condominium Property Managers and Homeowners Associations Say About Schill Grounds Management


"I have been fortunate to employ the services of Schill Grounds Management since 2006. Schill has always been considered in my bid packages for both summer and winter plowing service. Currently about 50 percent of the condominium and HOA properties I manage have Schill."



- Dave P., Association Manager