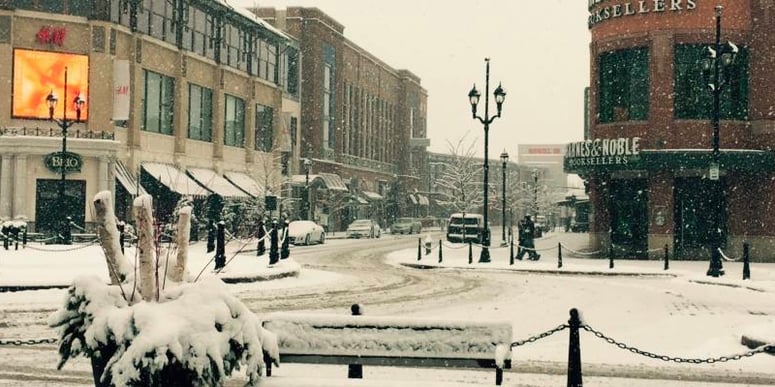 The Crocker Park lifestyle center is a "city" that rarely sleeps. It's a fast-paced business district with retailers, restaurateurs and corporations. It's also home for residents who dwell in the loft spaces and brownstone-esque townhouses.
The 75-plus acre destination for shopping, dining, living, working and playing is in a state of constant development, especially today as new phase of Crocker Park takes shape along with construction for the American Greetings headquarters.
There is a period of roughly three hours from 2 to 5 a.m. when Crocker Park could be considered "closed," though that window does not take into account sleepy residents who do not want to hear commercial snow removal equipment scraping across the parking garages.
"By far the greatest obstacle at Crocker Park is that, as a landscaper, you're dealing with three different types of customers in one area," says Jason Dickey, director of operations at Schill Grounds Management. "You've got businesses that are open Monday through Friday from 7 a.m. to 5 p.m., and a retail segment, along with restaurants and bars, some of which are open until 2 a.m. The property is constantly open."
But property maintenance must go on, while customers shop, residents sleep and businesses operate. "We're a seven-day-a-week center and there are people all over the place, all the time," says the assistant operations manager at Crocker Park.
Crocker Park needed a landscape and snow removal contractor that could truly understand the diverse customer mix and create a plan to address the property's maintenance requirements, while managing the challenges of significant construction on the land. Schill Grounds Management stands up to the challenge.
Under Construction: Shifting Snow Removal Plans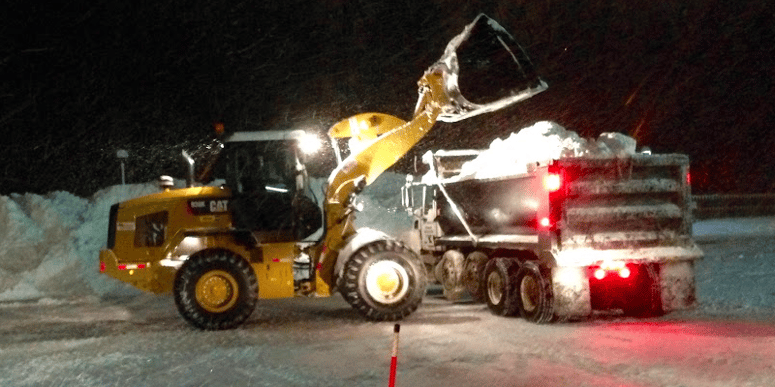 When Schill Grounds Management began servicing Crocker Park five years ago, there was no construction and, the assistant operations manager says, "The site was on autopilot in terms of how it was being maintained."
In other words, there weren't variables like cranes, new parking garages, construction trailers and uprooted traffic patterns. There was plenty of parking and room to push snow off the lots.
The construction of American Greetings new headquarters and the next phase of Crocker Park retail, business and residential buildings altered the picture completely for Schill. Actually, these changes happened over time and snowballed into a real shift in the way snow and ice removal had to be managed last winter, the assistant operations manager says.
"We have noise ordinances, we have tenants on site, we have to be considerate of who is on the property and we have metered parking, traffic flow—everything makes their job very difficult to perform," she says.
As for snow, previous years' strategies needed to be scrapped once parking on the property became limited due to construction. "We used to move all of the snow to the south end of the property, and now we have to move it to the north end and have it hauled away," the assistant operations manager says.
Schill designed a snow removal plan that addresses the property's people and parking. Sidewalk crews push snow off walkways to keep areas safe for pedestrians, and snowplow crews clear parking lots. Snow piles are hauled away in dump trucks the morning following an event (to avoid noise while residents are sleeping). Crews also remove snow from the rooftops.
Many of Schill's trucks are equipped with strobe lights instead of backup alarms that could bother sleeping residents. And rather than using snow blowers on walkways, crews manually push snow.
"Schill helped us locate and secure an area to haul the snow to that is close by, and that has really helped out a lot," the assistant operations manager says of maintaining ample parking for Crocker Park patrons and residents in spite of severe weather and ongoing development.
Timing Is Everything: Serving Multiple Customers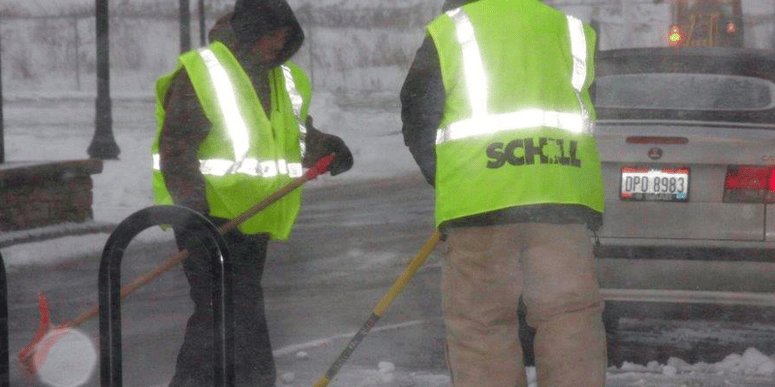 Managing maintenance in a "city that never sleeps" is a timing battle. How do you push snow without waking residents but ensure roads and walkways are clear in time for businesses to open at 7 a.m.? How do you maintain the landscape without interfering with people's enjoyment of the property at any time of the year? The answer: with great care, consideration and constant communication.
"We have to keep our customers and tenants happy and make it so people don't even know that Schill is on the property," the assistant operations manager says. "The best part about the way Schill serves the property is that our customers can see that they are doing a good job without interfering with their activities."
Accomplishing this requires strategy, Dickey says. For one, Schill employees must be trained to understand the property's diverse clientele—residents, businesses, retailers—and to respect their needs. This means keeping their voices down while clearing sidewalks at night. (Sound travels at 3 a.m. during prime snow-clearing time while residents are sleeping.)
In addition, commercial snow removal employees are dressed in bright clothing when clearing snow so they can be identified and for safety purposes. And the team takes pride in their contributions to Crocker Park.
"Every single one of their employees is respectful," the assistant operations manager says.
Anticipating Change: Clear Communication Lays A Groundwork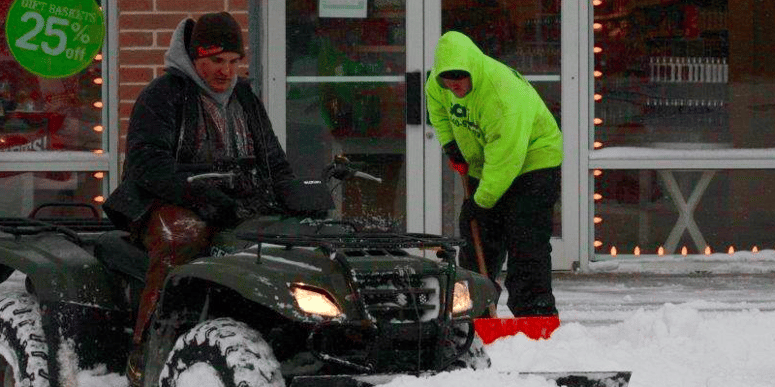 "They are the eyes and ears on the property—you can tell that they really care," the assistant operations manager says of the weekly reviews that Dickey or Jerry Schill, president, conduct on the Crocker Park property.
They'll note any potential issues and also anticipate issues and changes on the ever-developing site, which is critical to successfully maintaining the property, the assistant operations manager adds.
"They ask forward-thinking questions and they're planning a year in advance, and I think that's key to any contract management," she says.
The assistant operations manager is the single point of contact for Schill Grounds Management, and there is always a Schill team on site, especially during snow events. "We are constantly working on the property," Dickey says.
That's what it takes to keep a vibrant, 24/7 live-work-play setting safe and accessible. Because of advanced planning, constant communication, and a tailored approach to commercial snow removal, the diverse clientele at Crocker Park can continue on with business and life as usual no matter the weather.