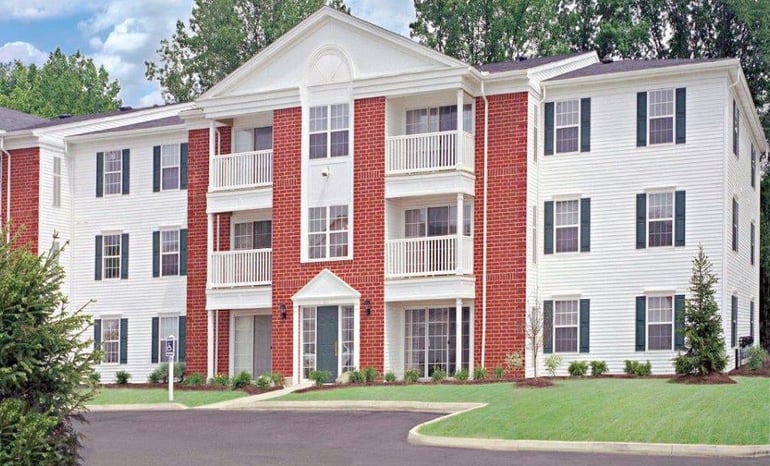 Meet Chris Sheely.
Chris is the Divisional North Manager for Gross Builders. From projects and budgets to personnel and physical assets, he directly oversees all of the company's Ohio properties — 18 in total. Needless to say, he's a man with many responsibilities. Cutting the grass shouldn't be one of them.
Up until 2014, Gross Builders hired area high school and college-aged students to cut the grass on all of its northern Ohio properties.
"We had our own lawn mowers and did everything in house," Chris says. "We were controlling flower bed weeds, cutting grass and we had a company come in and chemically control the weeds in the turf."
According to Chris, the time spent on staffing and training individuals to care for the turf got to be too much as the demand to turn apartments became high.
Keeping Pace With Business Demands
Headquartered in North Royalton, Gross Builders has built and managed a large portfolio of homes and apartment buildings — in Ohio, Tennessee and Alabama — since 1916.
With nearly 100 years of homebuilding and property management experience, it's safe to say this well-established, family-owned company has witnessed quite a few changes over the years in the way business is conducted.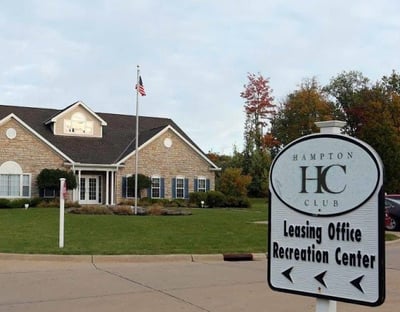 Just ask Chris.
"Five or six years ago, if you could turn a unit in 30 days, you were in good shape," he says. "But with the Internet today and the demands of apartment rentals, we have to turn apartment units much quicker."
Today, 10 days is a typical turnaround, however, there are times in the summer when apartment units need to turn in as little three days. With quicker turns, Chris had even less time to worry about the grass on his properties.
"We'd have to hire a guy, get him set up, show him how to cut the grass and show him how to weed — if he didn't show up or quit, we were the ones cutting the grass," he explains. "My team can't focus on that anymore. They need to focus on getting the apartments ready."
Enter Schill Grounds Management.
Making The Decision To Hire A Lawn Care Professional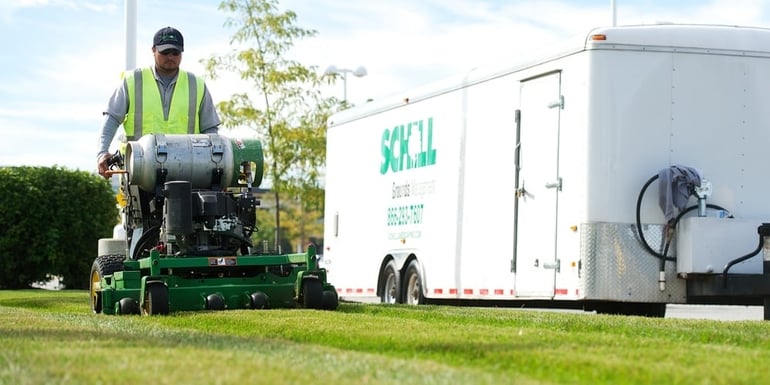 "Jim Schill's reputation has a lot to do with it," Chris says in regards to his decision to hire Schill Grounds Management. "And the Schill organization is big enough to take on our demands. We've got 18 properties, from Olmsted Falls to Solon to Portage Lakes. We have some large apartment complexes that are 30 to 35 acres."
Hiring an inexperienced individual to take care of the grass on one of those huge properties all too often looked like this:
Monday, the northwest corner of the property is mowed.
Tuesday, the southwest corner is mowed.
Wednesday, it rains, so nothing gets mowed.
Hopefully by Friday, the last of the mowing wraps up.
Monday, the mowing starts all over again.
"When Schill comes in, they do everything in one fell swoop and get out of there," Chris says. "You're not hearing mowers all week long; the mowers and other equipment they have can really make the turf look like a golf course versus the equipment we were putting on it." Schill has the largest fleet of propane-powered mowers of any commercial grounds management company in Northern Ohio.
Since taking over the lawn care needs of six Gross Builders' sites in early 2014, the North Ridgeville-based commercial landscaper is now providing lawn care and weed control for Gross' entire Ohio portfolio. Almost immediately, Schill crews were able to introduce consistency and uniformity back into Gross' lawn care program.
Jim Schill, Co-Owner and Executive Vice President of Schill Grounds Management, says, making an impact on a property comes down to the details. The following services go beyond mowing and were missing from Gross' in-house approach — and something Schill could offer on a timely, consistent basis:
String trimming

— Trimmers (aka weed whackers) level out hard-to-reach grass so that it blends in seamlessly with mower cut grass.

Stick edging

— With a rotating metal blade, edgers give properties that manicured look by creating definition between hard surfaces and the lawn.

Surface blow-off

— After mowing, trimming and edging, loose grass clippings are blown back into the lawn and off sidewalks and driveways.

Weeding beds

— From applying pre-emergent herbicides to weeding landscape beds, weed management prevents weeds from getting out of control on your property.
These basic but necessary lawn care services can be the difference between a good lawn and a great lawn for any type of commercial real estate.
The Age Of The Internet — Understanding The Importance Of Appearance

Here in northern Ohio, many of the properties Gross Builders built and manage are between 10 and 20 years old. As these properties continue to age, Chris says allocating more budget money into a property's exterior appearance — including turf — is a must.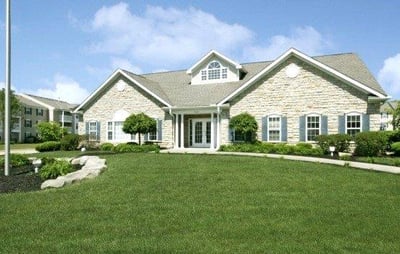 "There is so much grass on my properties that I just can't have any yellow — everything has to be green," he says. "It doesn't matter if someone is shopping for an apartment online or if they're driving by one of our properties, we've got to put our best foot forward everyday."
In setting this "best foot forward" expectation, it's important for property owners and managers to partner with a landscape contractor that shares in your vision. You hold high expectations for the appearance of your landscaping — hire a grounds management provider with the same goals.
"If I ever have a question or issue, I have Jim [Schill] on speed dial. He always responds," Chris says. "When you get to be as big as we are, you've got to be able to rely on your people and Schill has always been a business partner we can rely on."