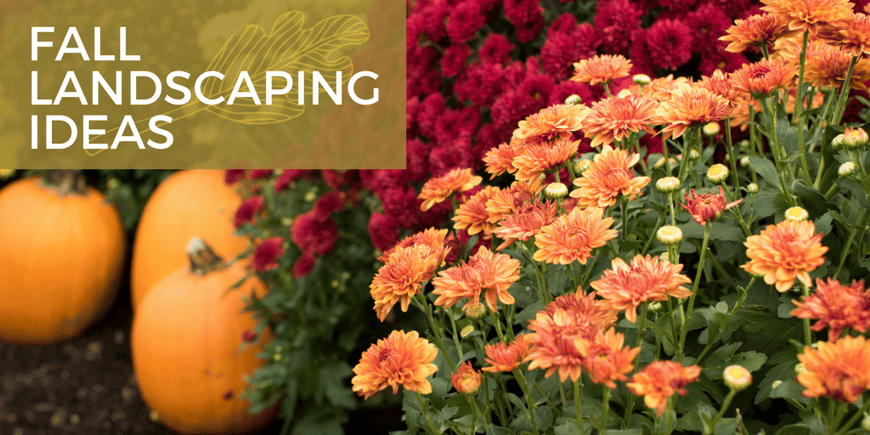 We're in seasonal transition now, downshifting from bright summer in the landscape to rich, harvest colors that take us into late fall and the holidays. Annuals and entryway enhancements with cornstalks and more keep your site relevant and looking crisp for autumn. Don't let your commercial property miss out on this exciting season of fall color.
In addition to necessary fall clean-up and maintenance, here are four fall landscaping ideas for commercial properties in Cleveland to keep the color blooming until the snow falls.
Evergreens: Color That Surpasses The Seasons
Evergreens are the ultimate way to maximize color year-round. In summer, they provide a rich green backdrop as foundation plants, and in fall they maintain their color as other trees' foliage changes color and drops.
Evergreens are the die-hards: they're dependable (always green) and sturdy (relatively easy to maintain).
So, what do you need to know about planting an evergreen in fall? Allow us to point you toward our handy Fall Planting Guide. (Trust us, worth a quick read if you're going to buy plants and put them in the ground in the next 6 weeks.)
Annuals: Think Cool-Weather Containers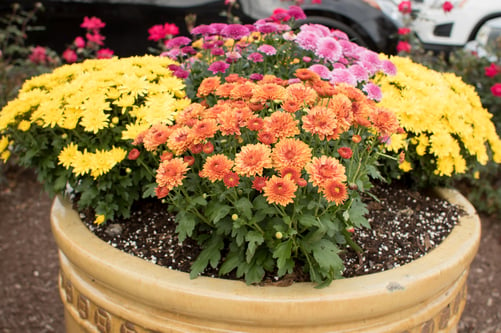 Hardy mums are now in season, and available in range of colors from sunny yellow to rich burgundy and rusty orange.
Mums also produce a variety of blooms: pompons, decorative with overlapping petals, or single petal (daisy).
Mums are ideal as annuals for landscape beds, providing an instant shot of fall; as stand-alone feature plants in a container; or blended with other fall favorites (cabbage, ornamental grasses, ornamental pepper).
Going Beyond Fall Mums
Speaking of "others," we encourage you to think beyond the mum, and include other cool-weather annuals in container arrangements. Cabbages are available in purples, pinks and shades of green, and their low-growing profile, rippling texture and round shape adds variety in a container.
The same goes for ornamental kale. The color and vigor of these plants will last through mid- and late fall, until it's time to decorate for the holidays.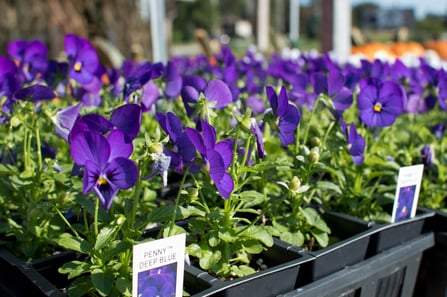 Pansies and violas are cool-weather performers you can tuck into the ground or display in containers as annuals. They'll bloom through fall, even surviving frost. The benefit of getting these purple-and-yellow flowers into beds is that you'll get two blooming seasons out of them: fall and spring.
What we love about annuals: Instant gratification, because they're already blooming and full of color—and landscape interest that takes your property from summer through fall and into early winter. Plant annuals now to get the most out of fall favorites.
Want more landscape design tips?
Check out our comprehensive landscaping guide
Fall Arrangements: Cornstalks And More Set The Tone

Transition your commercial property from bright summer to cozy Northeast Ohio fall with seasonal enhancements like corn stalks, which add texture, vertical interest and autumn appeal to a landscape bed or building entrance.

Beyond cornstalks, pumpkins say harvest in October and November, and the addition of annuals like mums completes an autumn arrangement.
Have some fun this fall and add a season to your landscape by dressing up focal points with these interesting seasonal features before we head into holiday and snow.
Maples: A Fall Foliage Classic
Now is a fine time to install trees like maples because there's adequate time for root establishment before the temperatures drop to freezing, and fall brings more rainfall and less stressful temperatures.
For all of these reasons, we love planting in fall. Maples provide the attractive autumn foliage that adds seasonal interest to properties, and they're structured branching adds vertical interest to the landscape.
Install trees now and you'll gain the screening benefits they provide after spring when buds pop and leaves fill in again.
Prepare For Fall — Plant Seasonal Color On Your Commercial Property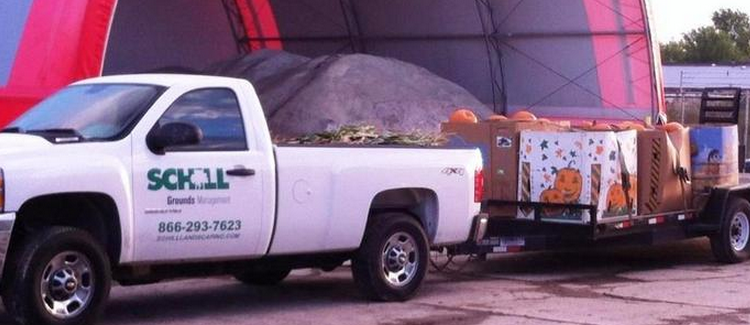 Keep your commercial property relevant and transition into the cooler season by taking stock of landscape beds, containers and entryways.
There is a full palette of fall plants available as annuals that you can enjoy today and into late fall, and now is also the time to plant bulbs that will reward you with early spring color.
Check out our Fall Planting Guide to get specific planting advice, and contact us any time to learn about seasonal color and enhancements. Call 440.327.3030, or fill out this simple contact form and we'll get in touch with you.