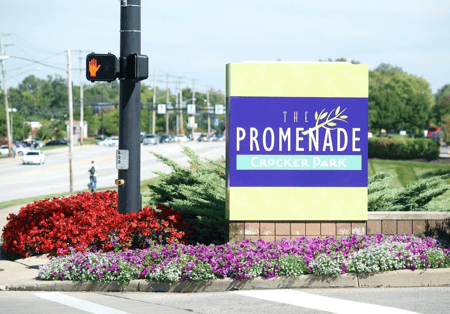 The entrance of your property is both functional and aesthetic — it welcomes guests to your retail establishment, business or homeowners association. The entryway landscaping contributes to the community's curb appeal, and sets the tone for the experience people will have while they're on your property. A combination of signage, hardscape features, plantings and smart execution of design will create a remarkable entrance and increase the property value.
There are plenty of shortcuts to take when designing and installing your entrance landscape, such as choosing an off-the-shelf design that looks generic (think basic mulch and annuals surrounding the sign). The result is a cookie-cutter entryway — who could blame people for not making double-takes as they drive by it?
That's why we recommend taking time to properly plan this critical space on your property so you can make the most of this key focal point.
Commercial Landscape Design Ideas
Here are five commercial landscape design ideas to consider as you plan a memorable entrance.
Signage: Plan Around This Entrance Staple
Entryway signage can dictate the design of that space because, in most cases, the sign is a permanent fixture. It's not going anywhere — that is, unless you are planning the space from scratch or will have a new sign created for the entrance.
If the sign is modern and sleek, the plants you choose and overall design of the space should follow suit. A large-scale sign demands a landscape backdrop that can support its size.
Also, consider visibility when choosing plants so growth does not block signage, otherwise, you'll be constantly maintaining that area. Passers-by need to see the sign, and the landscape also should not block views for safety reasons.
Smart Color: Add Pop To Your Entrance
Install vibrant beds of flowering plants, including a variety of annuals and perennials. Color will punctuate the entrance with visual eye-candy. (Who doesn't love to see billowing beds of bright blooms?)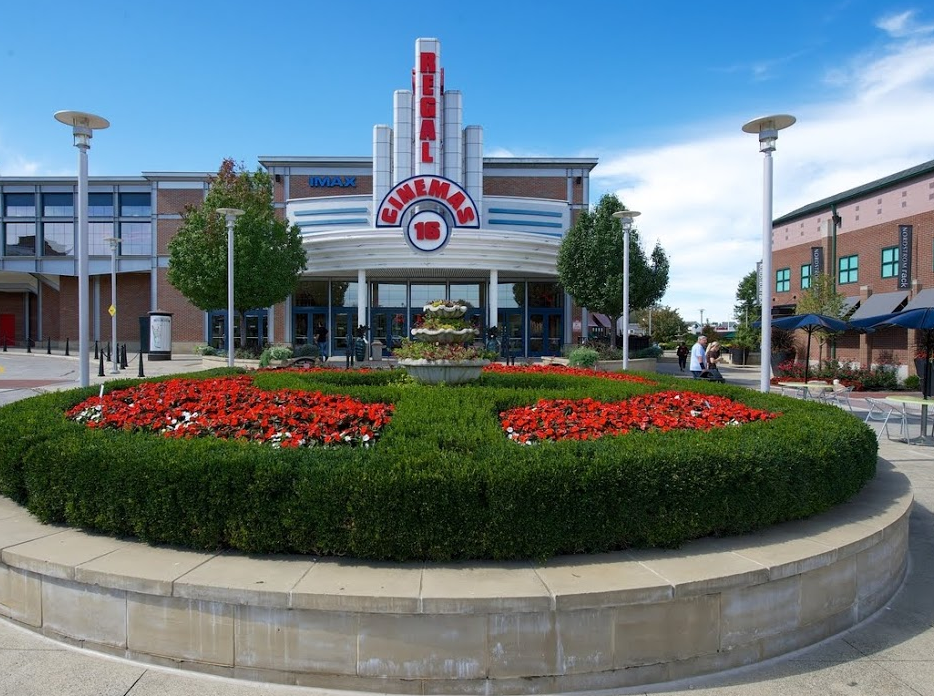 When selecting landscape bed flowers, pay attention to bloom time and growth pattern — and of course, the plants' sunlight and soil needs. If your entrance receives full sun exposure, select plants that thrive in that environment, otherwise you'll be spending money on replacing them. Bloom time is important because you want an ongoing show of color, beginning in spring and lasting through fall.
Perennials are a great long-term investment and a sustainable choice for the landscape because they bloom year after year, while annuals provide flexibility so you can change up the color palette and try new varieties each season.
As for growth pattern, plants growing at various heights add interest as opposed to the monotone feel you'll get with a landscape bed only featuring one type of flower and a single sight line.
Need more landscape design tips?
Check out the "enhancements" section of our comprehensive landscaping guide
Landscaped Slopes: Conceal Parking Lots & Buildings
Creating a sloped entrance will help mask parking lots and buildings behind the entrance, which will help improve the curb appeal and improve the overall aesthetic. Low-maintenance turf can be planted on the slope for a green backsplash, while rock outcroppings will help control erosion and create a more natural hill look.
Keep in mind, mowing slopes can take more time and maintenance, so property owners might choose groundcover or stonescape for the hill.
Retaining Walls: Build A Layered Entrance
Retaining walls add depth and volume to the entrance while providing additional planting space. Retaining walls also deliver privacy benefits because they can screen views of parking lots. If your entrance is situated on a slope that is challenging to landscape, retaining walls cut into the grade and provide a layered wall system — terrain that can be planted and more easily maintained.
Retaining walls also can control erosion that would occur without a landscape structure in place. What we love about retaining walls is the grand entrance they can create, with more height and layers of interest. Plus, you can choose among a range of natural stone—some of which may be locally harvested—and hardscape material to complement the theme of your property. Sustainable materials include repurposed curbs and concrete.
Native Plants: Choose Low-Maintenance Varieties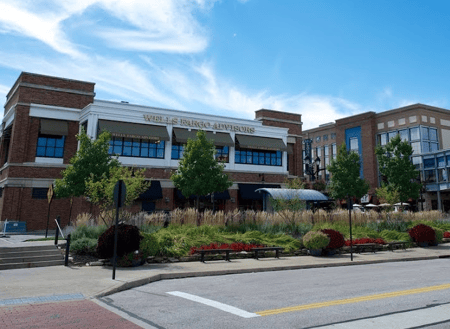 Maintaining your entrance landscape is critical because it's the first impression people will get of your property. Native plants are a hardy, natural choice for some property entrances because they blend with the environment and are adapted to our region's climate, so they require less care to thrive.
Based on the entrance location — every entryway is a micro-climate with varying sunlight, wind exposure, soil and water availability — Schill can suggest native plants that will complement the overall style of the landscape.
Make A Positive First Impression
The five commercial landscaping design ideas to remember when planning an entrance landscape for your commercial property are: signage, color, grade (slopes, retaining walls) and plant choice. Make your entrance memorable by going beyond a basic bed and creating a statement that will set the tone for visitors' experience on your property.
Let's talk more about ways to install and maintain the entrance area of your commercial landscape. Call us any time at (440) 327-3030, or fill out our simple contact form and we'll get in touch with you.