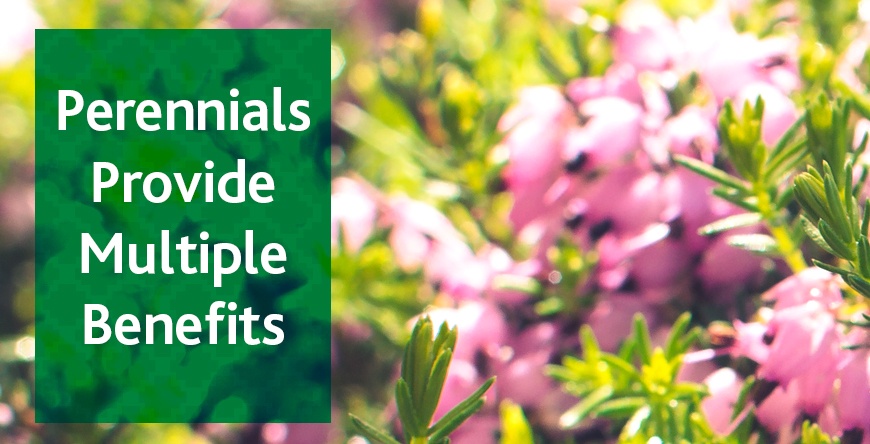 Spring has arrived, and here at Schill we're getting lots of calls from property managers who want to make sure their properties pop with color. For these people, flowering annuals are often the first thing that come to mind. However, we like to remind everyone that it's important not to overlook other plants that will be here long after the season is finished. Even though perennials are often seen as filler plants, they can be stunning on their own or when layered with annuals. But their visual impact is only the tip of the iceberg. In this article, you'll also learn how perennials can help you save money and the environment.
The Basics
Perennials are plants that come back year after year. This may mean that they're evergreen, with foliage that's always present, or they may shed foliage every year due to changes in temperature or moisture. Some plants (like the Dracena) are perennials in tropical climates only, and must be replanted every year in areas with harsher winters or four seasons.
Some perennials love shade, while others may favor direct sunlight. Deciduous perennials, like hostas, lose their foliage every year due to changes in temperature or moisture, while others, like irises, remain evergreen. For these reasons, it's important to keep your location in mind when considering investing in perennials to make sure you're buying the right perennials for your environment.
Visual Impact
Property owners and managers often want to opt for ornate, showy plants in their landscapes. But even the showiest of plants can have a hard time standing out if other plants that differ in color, size, and texture aren't incorporated into landscaping designs with them.
Color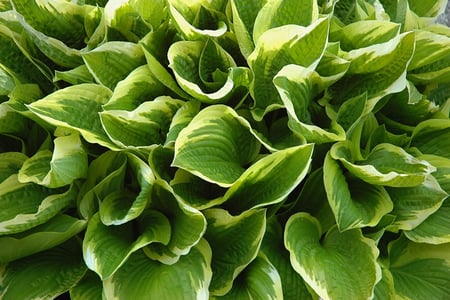 While some perennials may flower, others won't. Some popular examples of flowering perennials are daylilies and border carnations. But you don't need a flowering perennial to get stunning colors! Coral bells have leaves that come in a variety of hues, from bright green to deep purple.
For a more subtle pop of color, consider a variegated plant like a hosta (pictured here). The iris is another great choice for a variegated, hearty plant with beautiful striped leaves to provide year round color, with bright purple flowers that pop up in warmer weather.
Still want color that changes with every season? Consider a hybrid approach: reduce the amount of annuals in your flower beds by replacing them with perennials, or just incorporate more of them into your landscaping. Keep reading to find out how this will save you time and money in the long run.
Size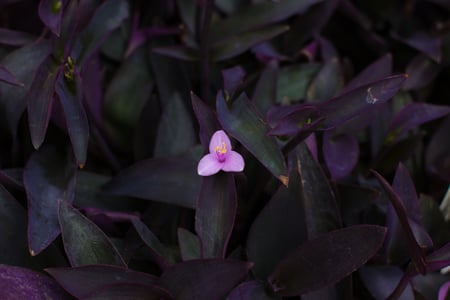 Varying plant height is another important strategy in landscape design that perennials are well suited for. Because they don't live very long, the growth potential for annuals is limited. Perennials, which technically include trees, can vary in height from a few inches to several meters.
The creeping leaves of the ajuga (more commonly known as carpet pine or bugleweed) are a deep red with hints of dark violet that hug the ground, but its bright blooms provide a nice, subtle contrast in height. Similarly, purple heart plants (pictured left) have short spiky leaves with delicate purple flowers that crop up above them.
For a taller plant that makes a big impact, consider delphiniums like the larkspur. They're hearty plants that can grow up to 8 feet tall, and have large spiky flowers that appear in late spring. If you're looking for a mix of size and texture, the goat's beard shrub is a great choice. It has bold green foliage that is mixed with wispy, almost feather-like white blooms that pop up this time of year. Although its height and fullness make goat's beard great for adding a bit of privacy to property boundaries, it also can make a great centerpiece for your property's landscape design.
Texture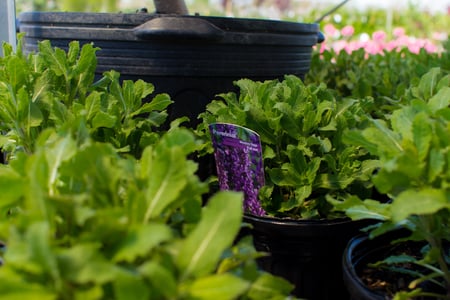 Texture is another aspect often ignored in landscape design. Too many bold plants can make your landscape seem unrefined, while incorporating too much thin foliage can result in the finer details of those plants getting overlooked rather than standing out.
Japanese forest grass is a perennial that's great for adding interesting texture to commercial properties. Its continual growth makes it a great option for ground cover. However its long, spiky foliage that comes in beautiful thin stripes, in combination with its round, bulbous shape are what will attract people to your commercial landscape.
Property owners looking for some visual contrast should also consider meadow sage (pictured here, without blooms), which sprouts tall, spiked, purple blooms in spring but has soft leaves that are buttery to the touch.
Environmental Impact
There's no question that perennials are more environmentally sustainable than annual plants. Because they're inherently heartier than annual plants, perennials require less chemicals to thrive. But many people don't know that they also out-compete weeds. This means that they require less weeding over time, and can therefore reduce the amount of chemicals devoted to killing weeds.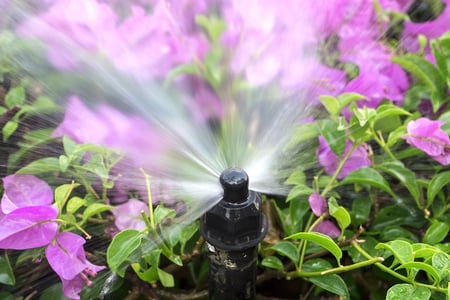 Perennials also require less water.
Using less water is both financially and environmentally beneficial. Because perennials have a lower need for water, you can gain financial benefits throughout the year by decreasing the need to water (lowering your water bill), and be in an advantageous position should watering restrictions be put in place due to severe drought in the Summer months.
Increasingly, property owners are embracing more sustainable practices to help reduce their ecological footprint. Consider altering your landscape design to meet these initiatives.
Cost: Investment vs. Expense
A lot of people are hesitant to invest in perennials because of the larger upfront costs. In general, perennials can cost 30-50% more than annuals for the same amount of coverage. But while annuals need to be replanted every year, perennials are often a one-time cost and require little to no maintenance. This means that, compared to annuals, you can recover your costs in as little as two seasons.
Certain types of perennials tend to spread more over time. This may result in having to use less filler, like mulch, which can lead to significant savings over time. Consider using those savings to purchase a variety of mulch that's higher in quality.
Because of these differences, it's helpful to think of perennials as an investment, while annuals are an expense.
We hope you'll give perennials a chance this spring. Not only are they a wonderful way to bring a variety of options in size, color, and texture to your property, they have a much smaller impact on the environment and cost less over time.
To learn even more about how to maximize the value of your commercial property, check out our recent posts on strategies for spring color and why mulch is essential to landscape. As always, if you'd like a consultation for your Northeast Ohio commercial property, we're always just a phone call away. Call us any time at 440-327-3030, or fill out this simple contact form and we'll get in touch with you.