Protecting Our Community and Our Planet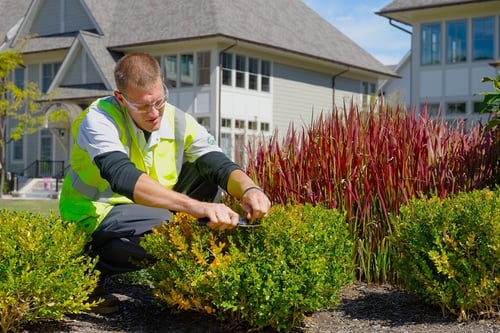 Schill is a local, family-owned company with deep roots in Lorain County and Northeast Ohio. We grew up near the shores of Lake Erie. We're raising our families here. We care about protecting our community, your property, and our planet. That's why Schill Grounds Management is Northern Ohio's leader in sustainable practices that help protect the environment.
We are proud to have clients who share our commitment to the environment, including many LEED-certified properties.
"Schill's green initiative is key for us. We have a LEED facility on our property and we're always trying to push towards sustainability, because that's what the public wants us to do."
- Krista Hermes, Assistant Operations Manager, Crocker Park
How we minimize our environmental impact:
Propane Mowers
We have a fleet of 100 propane-powered mowers, which allows us to drastically reduce our carbon emissions at a fraction of the price of conventional gasoline. But not only does propane burn cleaner, it is also nontoxic, which means there is not risk of contamination to water or soil on your property.
Organic Fertilizers
Using synthetic fertilzers alone doesn't provide your soil with enough of the necessary nutrients it needs to properly feed your plants, and the high levels of phosphorous they contain can lead to algae blooms like the one in Lake Erie. Organic fertilizers (also sometimes referred to as bio-nutritional fertilizers) provide your plants with more balanced nutrition while also using minimal levels of elements that can harm the environment when used excessively. Here at Schill, we're committed to using organic fertilizer to keep our clients' landscapes safe and healthy.
Sustainable Landscape Design
Sustainability begins when your plants are installed. The Schill team is always ready to recommend plants that require minimal amounts of water, and make sure that any irrigation that is installed waters your landscape only when needed. When designing hardscapes, we also take into account using sustainably sourced woods and stone materials so that they can be enjoyed by others for years to come.
Green Waste Recycling
Bagged grass clippings and yard waste produce methane gas, which is a major contributor to greenhouse gas emissions. Because of this, The Schill team takes every step to recycle organic materials on site at commercial properties. We mulch grass clippings, leaves, and other materials when possible. Any yard waste that can't be naturally recycled and reintroduced into the landscape on your commercial property is sent back to our facilities for processing into reusable natural materials, such as topsoil, compost, and mulch. Our "closed loop" approach results in zero waste and a healthier environment.
When you partner with Schill, you can improve the quality of your outdoor environment and create healthy community spaces that boost the value and appeal of your commercial property – without increasing your costs.

Want to learn more about how why NOW is the right
time to improve your property's sustainability?
Download our FREE guide to learn:
The key components of sustainability
Understand the Triple Bottom Line:

People, Planet and Profit
Get clear next steps to begin to minimize your landscape's environmental impact