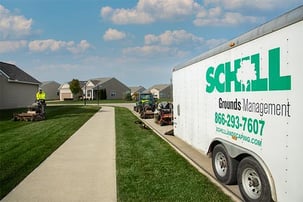 If you're a property manager, homeowners' association president or another person tasked with purchasing commercial landscape services right now, you most likely have some questions about engaging in a new commercial landscape services contract right now.
Many of the customers we're hearing from are concerned about two things: labor and inflation. They want to know if their pricing will increase and whether we'll have enough team members to take care of their properties. Both of these are real concerns, considering the state of the economy in the wake of the COVID-19 pandemic. Just to name a few examples:
You get the idea. We're not here to complain; rather, we're here to educate you about how Schill Grounds Management (SGM) is minimizing these challenges and to share tips for getting a commercial landscaping services contract that meets your goals — and your budget.
How We're Overcoming Labor Challenges
Finding excellent team members is always a priority for SGM. Other than cutting grass during the green season and plowing snow during the winter, recruiting is the one thing we do every day, thanks to our team of five HR professionals and a marketing director.
We've also increased our overall pay rates by more than 30 percent over the last four years, in addition to offering an industry-leading benefits package, including medical, dental, vision, 401(k), paid time off, and more. We've renewed our focus on employee engagement and retention with a program called SGM Cares, and we hold regular town hall meetings to ensure team members at all locations are on the same page.
On top of those efforts, we prioritize working smarter, not harder. We're always adding technology, software and equipment that can help us operate more efficiently and lessen the burden on our crew members. These include:
Investigating commercial autonomous mowers and other efficient equipment.
Implementing software that allows us to have paperless field operations.
Leveraging GPS technology, routing software, and mapping tools.
While we can't say there won't be days when team members are out due to quarantine and schedules are disrupted, we are doing everything in our power to remain fully staffed.
How We're Mitigating Inflation
It's no secret the economy is experiencing supply chain woes and skyrocketing prices. It's no different in our line of business. Trucks and equipment are hard to come by and more expensive than they used to be. Some types of plant material are difficult to find. Fertilizer prices have gone up and availability has gone down.
With all of this in mind, there are a few steps we're taking to partner with our clients to mitigate these rising costs.
First, we're working with clients to analyze their scopes of work to see if there's room for flexibility. In some cases, scope of work documents were written a decade ago and haven't been updated since. Rather than bidding the same thing year after year, we'll sit down with you to review your goals and see if there's an opportunity to re-engineer your program and save costs in the meantime.
We're also encouraging clients to consider multi-year contracts for a true partnership. You receive consistent pricing at a service level you expect, while we become more efficient in maintaining your property over the long term.
How Our Growth Plays A Role
On top of these measures, SGM is fortunate to be growing at a rapid pace, which presents synergies and opportunities for sharing best practices among our locations.
Over the last 18 months, we've been fortunate to partner with and acquire the following companies into the SGM platform:
McCoy Landscape Services
The Ohio Valley Group
Ward + Thornton Landscapes
Fredericks Landscaping
Enviroscapes
We have partnered with these firms because they're best-in-class operators in their respective markets with outstanding teams and clients. Working together as a larger organization gives us the ability to ramp up our recruitment and retention efforts and commit to continuous improvement day in and day out, ultimately delivering unmatched service for our clients.
To learn more about the state of the commercial landscaping market, how we're tackling the challenges, and what you can do to limit the impact on your property, download our whitepaper, "State of the Commercial Landscaping Market 2022," or contact us today.