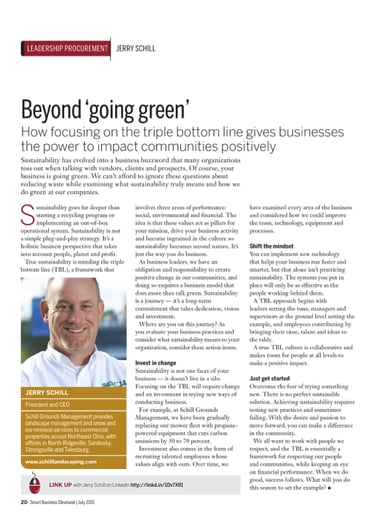 Schill Grounds Management has a unique take on what sustainability means in business today. It's a concept we extend to every aspect of what we do: within the walls of our office, on our clients' properties, and out in the community.
So when Schill Co-Owner and President Jerry Schill had an opportunity to tell the small business community about Schill's commitment to sustainability — and what it really means today, far beyond buzzwords and recycled paper — he jumped at it.
Learn more about the TBL (triple bottom line) and how to adopt a mindset geared toward true sustainability by reading his column. Whether you're a business owner, property manager or fellow industry leader, we hope you'll find a takeaway for your own situation.
Learn more about Schill's stance on sustainability by accessing our FREE position paper, Corporate Sustainability And Your Bottom Line.