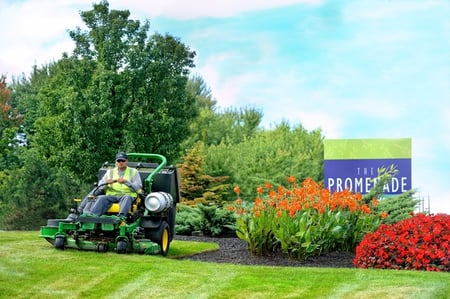 Schill Grounds Management designs and builds commercial landscape projects that are beautiful, require less care, and incorporate local best practices to reduce our footprint on the planet.
Our design team includes landscape architects and designers with over two decades of experience planning and building environmentally responsible commercial, industrial, retail, and condominium HOA projects throughout the Northeast Ohio region.
We believe sustainable landscaping is about protecting and preserving costly and limited resources, reducing waste and unnecessary inputs, and preventing air, water, and soil pollution.
Here are some of the ways we are making a difference in designing sustainable commercial landscapes in Northeast Ohio:
Storm Water Management: We use a variety of options such as bioswales, rain gardens, and permeable pavers to naturally reintroduce ground water to the soil, reduce run-off into surface water, and naturally filter out harmful herbicides, pesticides, and other pollutants and chemicals.
Water-Wise Landscapes: We look for ways to reduce the need for artificial water sources by introducing native plant selections suited for the region.
Energy-Wise Landscapes: We focus on the proper selection and placement of large trees and evergreens to shade and create wind screens, reducing energy costs throughout the year.
Sustainable Design: We select plants that reduce the need for water, synthetic fertilizers, and excess labor costs to maintain.
Sustainability Audit: We consider such factors as property size, orientation, growing conditions, existing materials on site, and budgets to develop and manage a landscaping plan that not only reduces our carbon footprint but reduces long-term maintenance costs.
Services include:

Site Planning
Landscape Design
Landscape Installation
Landscape Irrigation
Landscape Lighting
Landscape Maintenance

Ready to take the first step toward
sustainable landscaping?